Thread Informations
Thread Quality:
% 3
People who read that Thread
Users browsing this thread: 2 Guest(s)
Benim ek kutum
Benim sidebox kutu içeriğim
18-04-2010, 03:36 PM,
Mojo
Super Moderator


Posts: 2,683
Threads: 1,497
Joined: Jun 2009

Thanks: 2
Given 10 thank(s) in 10 post(s)




Fried Ginger Rice
If possible, use leftover rice as fresh rice will be too moist. Leftover rice from Chinese takeout works well too.
INGREDIENTS
2 tablespoons peanut oil
2 tablespoons garlic, minced
2 tablespoons ginger, minced
salt
2 cups leeks, thinly sliced white and light green parts only, rinsed and dried (about 2 medium)
4 cups day-old cooked rice, preferably jasmine, at room temperature
4 large eggs (optional)
2 teaspoons sesame oil
4 teaspoons soy sauce
DIRECTIONS
In a large non-stick skillet, heat 1 tablespoon oil over medium heat. Add garlic and ginger and cook, stirring occasionally, until crisp and brown but not burnt. (This took me over 10 minutes.) With a slotted spoon, transfer to paper towels and salt lightly.
Reduce heat to medium-low and add remaining tablespoon oil and leeks. Cook about 10 minutes, stirring occasionally, until very tender but not browned. Season lightly with salt.
Raise heat to medium and add rice. Cook, stirring well, until heated through. Season to taste with salt.
Fry eggs in remaining oil, sunny-side up, until edges are set but yoke is still runny. (It's up to you how you prefer your eggs - I like mine thoroughly cooked).
Divide rice among four dishes and top each with an egg and drizzle with 1/2 teaspoon sesame oil and 1 teaspoon soy sauce. Evenly sprinkle leeks and crisped garlic and ginger over everything and serve.
Serves 4
Amount Per Serving
Calories 367
Total Fat 9.7g
Saturated Fat 1.6g
Monounsaturated Fat 4.2g
Polyunsaturated Fat 3.3g
Trans Fat 0.0g
Cholesterol 0mg
Sodium 345mg
Potassium 199mg
Total Carbohydrate 63.1g
Dietary Fiber 1.8g
Sugars 2.0g
Protein 6.2g
Metric Conversion Chart
__________________


Democracy is two wolves and a lamb voting on what to have for lunch.
Liberty is a well-armed lamb contesting the vote.
Benjamin Franklin
09-10-2010, 06:10 AM,
robindell10
Junior Member


Posts: 2
Threads: 0
Joined: Oct 2010

Thanks: 0
Given 0 thank(s) in 0 post(s)




Fried Ginger Rice
1. Heat half the oil in a skillet. Add ginger, cumin seeds, garlic and red pepper and cook until garlic and ginger is browned, but be careful not to burn! 2. Remove the ginger / garlic / cumin / red pepper to skillet. Add a little more oil. Add green onions to skillet and sauté for 3 minutes. 3. Add the rice, most of the soy sauce and sesame oil and cook until rice is hot. Mix in most of ginger with garlic and add it to your plate. 4. Cook an egg. 5. higher rice mixture with a fried egg and remaining soy sauce, sesame oil and ginger or garlic mixture. Have fun!
31-10-2010, 08:14 PM,
Brutally Frank
Super Moderator


Posts: 762
Threads: 398
Joined: Apr 2009

Thanks: 6
Given 46 thank(s) in 43 post(s)




Fried Ginger Rice
I just glanced across the title of this thread: "Fred Ginger Rice" and I was like: "WTF? What's dancing got to do with this?"

My boo boo ... :o
God@7thDay: "Jeez - I hate humans"

I'd rather have horse in my meatballs than some ass in my government!



"Moe nie worrie nie, alles sal reg kom" (maar hy het nie geseg wanneer nie!)
05-11-2010, 03:42 PM,
(This post was last modified: 05-11-2010, 03:45 PM by Mojo.)
Mojo
Super Moderator


Posts: 2,683
Threads: 1,497
Joined: Jun 2009

Thanks: 2
Given 10 thank(s) in 10 post(s)




Fried Ginger Rice
Sure frank, whatever You say....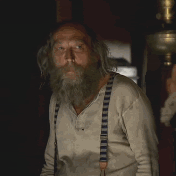 Democracy is two wolves and a lamb voting on what to have for lunch.
Liberty is a well-armed lamb contesting the vote.
Benjamin Franklin
Possibly Related Threads…
Thread
Author
Replies
Views
Last Post
Boiled and Fried Cassava
Mojo
0
1,181
18-04-2010, 03:35 PM
Last Post: Mojo
Ginger Lemon Poppy Seed Muffin (Vegetarian Desert)
Mojo
0
994
18-04-2010, 03:27 PM
Last Post: Mojo
Stir-Fried Mushrooms With Tofu and Bok Choy
Mojo
0
1,111
18-04-2010, 03:27 PM
Last Post: Mojo
Cilantro Ginger Green Shake (Vegetarian Smoothie)
Mojo
0
992
18-04-2010, 03:19 PM
Last Post: Mojo
Fried Tofu
Mojo
0
1,117
18-04-2010, 03:19 PM
Last Post: Mojo
Roasted Acorn Squash with Wild Rice Stuffing
Mojo
0
984
12-11-2009, 03:33 PM
Last Post: Mojo
Cabbage Kofta-Fried Dumplings & Gravy (YouTube directions)
Mojo
0
1,123
15-09-2009, 01:00 PM
Last Post: Mojo
Brown Rice, Broccoli, Cheese and Walnut Surprise
Mojo
0
1,021
13-08-2009, 05:47 PM
Last Post: Mojo
Oven Fried Sweet Potatoes (Low Fat-No Fat)
Mojo
2
1,552
11-07-2009, 12:50 AM
Last Post: coyote
Users browsing this thread: 1 Guest(s)